Hey, come een!  It's your girl Esha here of Carnivalista Lifestyle.  And if you're wondering what's the link between self love and travel, you're in the right place.
I'm so excited to share my podcast with Traveling Black Women. I had an amazing chat with Nadine, Founder of Traveling Black Women about the 3 Ways to Experience Self Love Through Travel. Trust me, wisdom was shared from Nadine that you will want to hear!
Tune in below!
And a quick recap…
Travel disrupts your routine.
You usually indulge yourself when you travel (isn't that self love right there?)
You give yourself permission to have fun when you travel!
I encourage you to watch the entire video since each of these tips sparked amazing discussion between Nadine and I.  We even talked about some of our fave items that we picked up traveling over the years and the feeling we get when we look at them everyday 🙂
Want more about self love and travel?
Then you have to sign up for my YouTube Series! In this 3-video series, I expand on the discussion that Nadine and I had in this video.
To get the series, sign up for our mailing list; click here.
And for daily inspiration, be sure to follow us on Instagram!
And if you'd like to listen to this in podcast format, check out the Traveling Black Women podcast page; click here.
Thanks for watching and reading!
Esha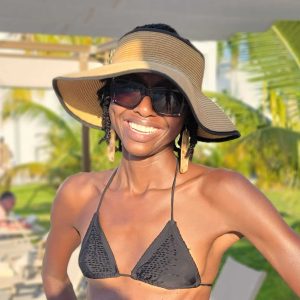 About Esha:  Esha Herbert-Davis is the Carnivalista in Chief of the Carnivalista Lifestyle.  She's passionate about loving yourself through amazing travel.  To learn more, visit her website: click here.